The Alberton Gorge section of the Clark Fork River has great whitewater all summer and is located within a 35 minute drive of Missoula and a few hours drive of Spokane Washington and Coeur d' Alene Idaho."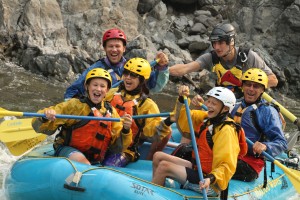 Missoula Whitewater Rafting! This is our premier whitewater rafting and kayaking run on the Clark Fork River- the finest whitewater in Montana. If you are looking for fun, excitement and relaxation, then this big volume, big ride river is the one for you.
Half-day trips daily:  Action packed and affordable.
Departs at 2 pm daily and returns between 5 pm – 6 pm.
$70 for adults, $50 for children (5-12 years old).
Full-day trips include a delicious lunch served riverside. * Most Popular *
Departs at 9am daily and returns between 2 pm – 4 pm.

$85 for adults, $65 for children (5-12 years old).
Gourmet Dinner trips include choice of either terriakyi chicken, grilled salmon or vegetarian.
Departs at 3:30pm and returns between 7 pm – 8 pm.
$115 for adults, $90 for children (5-12 years old).
The Alberton Gorge, created by Glacial Lake Missoula, is isolated from roads, has magnificent rock formations and dramatic rose-colored cliffs rising vertically on both sides of the river. You will likely see lots of birds, including osprey, mergansers, eagles, king fishers and hawks. We may also see deer, bear, moose or elk. History Buffs? All of our guides are well-versed in the history and geological features of the area. Daily departures available May through September.


Fleece, splashjackets and wetsuits are provided if needed.

View map of the Clark Fork River, click here.
What's the river flow right now? Click here to find out.