Riverboarding In Montana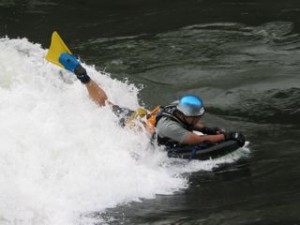 Riverboarding is the ultimate whitewater thrill. If you've rafted and wanted more excitement, adventure, and challenge — then river boarding is the adventure for you.
Guided Trips Daily: THE SURFING IS GREAT IN LATE SUMMER!!!
Half Day-$85. Main Gorge. 9 am, 2 pm or 6 pm.
Full Day with lunch – $129. Upper and Main Gorge. 
We operate these trips through Montana River Guides, North America's Number one Riverboard Outfitter. MRG has guided river board trips on the Gorge for over twenty years.
Getting Ready: No experience necessary but you should be a solid swimmer and enthusiastic about this challenging adventure. Your guide will provide an overview of the day and outfit you with the right equipment.  We'll outfit you with a helmet, wetsuit, fins, lifejacket, booties and a riverboard.  Everyone should be a solid swimmer and be in good physical condition. Guests must read and sign an acknowledgment of risk form before the trip. We'll remind you that riverboarding is considered an extreme sport and we can't guarantee your safety.   There are inherent dangers in whitewater adventures and riverboarding involves inherent risk. Having noted that, we start each trip with an orientation, safety talk, and practice the basics before running each section of whitewater as a team.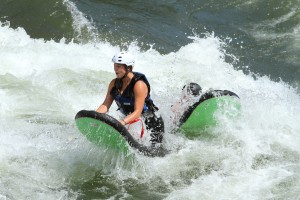 Montana's Best Whitewater: Just thirty miles west of Missoula and only a two hour drive from Couer d'Alene the Clark Fork River picks up speed and tumbles into the Alberton Gorge with rollicking Class 2,3 and 4 rapids and absolutely stunning canyon scenery. With its legendary rapids Fang, Tumbleweed and Boateater, the Alberton  Gorge is the premier summer whitewater adventure in Montana.
The  Alberton Gorge is an ideal location for guided riverboard trips.  It is a high volume (2,000 to 40,000 cfs), pool and drop river with large recovery pools after each of its Class II, III and IV Rapids. Because of its volume, the Clark Fork is not considered a technical run and is relatively free of obstructions. The rapids are characterized by obvious entry points with large waves caused by a combination of constriction and deep channel drops. Bottom line: the Alberton Gorge whitewater is one of the world's best spots to learn how to maneuver and surf while riverboarding. We run trips from June through September. The snowpack looks great this year. Expect huge water and fast runs through early July. As the river level drops through July and August more rocks and features appear along with more potential surf waves.
Group Trips and Special Occasions: Few experiences rival the sheer fun, intensity, and comradery that a group riverboarding adventure creates. Whether it's a bachelor or bachelorette party, a group of co-workers, a teambuilding excursion or just a group of friends looking for a Montana's best summer adventure, riverboarding is an unforgettable shared adventure that will leave you smiling and looking forward to your next "board meeting".