Top Five Missoula River Trips
Missoula River Trips on the Bitterroot, Blackfoot, and Clark Fork Rivers.
Missoula River Trips mean summer fun, good music, the great out doors and the finest rivers in America. We love to raft, kayak, SUP, float, swim and play on these rivers. It's our  work and our life. Here's a short list of 10,000 Waves Raft & Kayak Adventures favorite river trips near Missoula.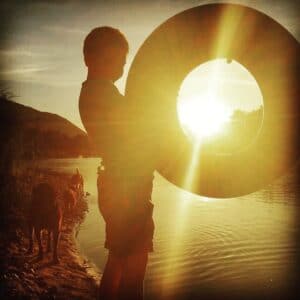 5. Bitterroot River – Chief Looking Glass to Lolo.
The Bitterroot River flows through a mountain valley just south of Missoula. It is a big destination for fishermen, rafters, and tubers alike. Unlike the Blackfoot River or Clark Fork River, the Bitterroot River flows at a lower gradient. This creates ample twists and turns as well as deep cool swimming holes. Whether catching frogs along the shore or taking in the stunning views of the Bitterroot  Mountains to the North, this float is fun for everyone. It's about 10 miles so don't get a late start. Many of us have tried to" tube the Root" after work and ended up hiking out in the dark.
Local Tip*You'll have to carry your boat at the takeout, so this float is best suited for small rafts, kayaks or canoes. Watch out for log jams!
4. Clark Fork River – Tarkio Gorge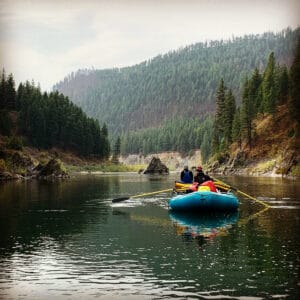 The Tarkio Gorge float is approximately 35 minutes out of Missoula and is one of the best floats for everyone in the family. There is some class II whitewater along the way and an abundance of beautiful scenery. It's also a great float to get creative for with your watercraft. SUPs and inflatable kayaks can make the 10-mile float a real adventure. Or, for the less adventurous, taking a guided raft tour on this stretch ensures safety and fun.
Local Tip *The put in at Tarkio can be busy in the summer so our advice is get an early start and take your time on the river. Montana River Guides and 10,000 Waves offer guided trips here.
3. Town Float – Bonner to the heart of Missoula
Are you looking for a river trip that can take no longer than 5 minutes to get to? Then look no further than Caras Park in the heart of Missoula. Round up your crew and get your hands on some inner tubes and you can do the town float. While it might be the most crowded float on this list, the town float still has beautiful views and some fun water features. And, since the removal of the Milltown Dam, you can float through the confluence of the Blackfoot and Clark Fork Rivers. You always have the option to keep it all in town and simple by floating from the University to Caras Park and walking back on the river trail. The longer float begins in East Missoula at the Sharon Fishing Access or outside Bonner at the Weigh Station and ends in Missoula at Silver Park. The best part is, after your day on the water you can dry off and dine at one of the many local eateries in downtown Missoula.
Local Tip* Be respectful. Leave no trace and  Have a designated driver do a drop off and pick up for your crew. Missoula Adventure Shuttles will hook you up.
2. Blackfoot River- Roundup to Johnsrud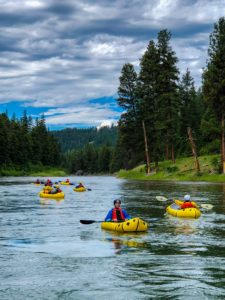 Out of all the river trips in and around Missoula, this one might incorporate all the factors that make an ideal family-friendly river trip. The beautiful blue-green waters in tandem with the stunning views and turbulent rapids make this an awesome day trip for the whole family. Fun whitewater begins right after you put in at the Roundup access which is approximately 40 minutes Northeast of Missoula.  In May and June at high-water there are some legitimate Class III rapids that are still cold. By July and August it becomes warmer , friendlier and more technical.   If you want to add to the adventure, there is some fun cliff-jumping you can do at the end of your trip at the Johnsrud river access.  Montana River Guides and 10000 Waves both offer Guided Family Raft and Kayak Trips here.
Local Tips* This is an amazing river to learn to kayak on. Get a ducky to paddle. Also the section from Johnsrud to the Weigh Station is  the premier hot summer day tube float near town.
1. Clark Fork River – Alberton Gorge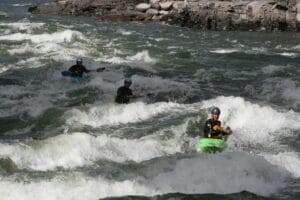 The Alberton Gorge, just 35 minutes West of Missoula, tops this list for a combination of reasons. Firstly, the whitewater rafting is the best you can find in the Missoula area no matter what time of year. Secondly, its natural history creates canyon walls and sandy beaches unique to this 11 mile stretch of river. And, while the whitewater creates some of the biggest rapids in the area, it is still appropriate for the whole family during summer months. Grandkids and grandparents, and everyone in between will have a blast paddling as a team through class III rapids like Tumbleweed and Potter's Plunge. During May and June the Gorge has some Grand Canyon type whitewater that is big and powerful. By July and August is warms up and becomes a little friendlier.
Local Tip* If you are going on the weekend, do a morning launch if you can.
Reminder
In sum, always remember to have all the proper equipment while having fun on the beautiful rivers surrounding Missoula. Wear a lifejacket! Good gear like life jackets, throw bags, helmets, spare paddles, and first aid kits can save lives. If you are unsure about a stretch of river consult local shops about current conditions. And, remember to always avoid downed timber and other entrapment hazards in rivers. If you are unfamiliar with the section of river, the conditions, or your ability to recognize and avoid hazards, go with Missoula outfitter! So, there you have it, this list shows you some of the best raft trips to do around Missoula!